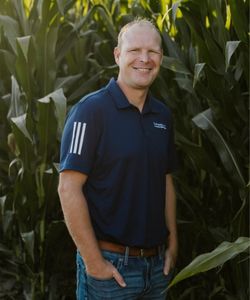 Q. What is your experience in the financial industry? How many years have you been with Flatwater Bank?
A. I graduated from UNO with a Bachelor's Degree in Business Administration, with minors in banking and finance and graduated the Ag Lending School through the Nebraska Banker's Association. I've been a lender for 11 years, primarily helping with ag and commercial loans, and recently started working at Flatwater Bank. 
Q. What leadership roles do you have at the bank or in the community?
A. Outside of my day to day work week, I have volunteered to coach my kids' basketball, baseball, and football teams. I've been a board member for the Cozad Community Football Club for the past 7 years. 
Q. From your experience working in ag lending over the years, is there one thing you would recommend or advise for producers related to financing?
A. Know your breakeven and create an accurate cash flow for the year and stick to those expenses as best as possible. Also keeping working capital available can help navigate you through some tough times.
Q. What trends do you anticipate for the ag industry in the year ahead?
A. I see input costs continuing to rise due to inflation. Once the market stabilizes commodity prices will go down but inputs will still be high. Margins will shrink.
Q. We live in a digital world, but how can customers still benefit from working with a local loan officer?
A. Relationship is key and working with a local lender can be advantageous because they will work with you in the good times and the bad times. You won't just be another name in their database. The relationship with your loan officer should be more than just the lowest rate. All services and banks are not created equal, and customers need to be able to talk with their lender and bank to get different ideas and suggestions. 

Q. What do you find most rewarding about your job as a loan officer?
A. The most rewarding part of my job is seeing my customers succeed with their business ventures. I'm not successful unless my customers are successful.
Q. How would customers describe you?
A. I'm dependable and communicate well with my customers. I try to get out and see them at their home place to get a better feel of how they operate.
Q. What do you enjoy doing in your free time?
A. In my free time I enjoy golfing or attending my kids' activities with my wife, Tara. Also, I'm a big Husker fan and attend football, basketball, and baseball games when time permits. My oldest child enjoys hunting, so I'm starting to get into hunting as well.