OUR CULTURE & VALUES
At Flatwater Bank, our "Why" is simple. We exist to enhance the lives of our customers, team members, and community. #BecauseWeCare. We do this through personalized banking, customized financial resources, financial outreach, and community engagement. 

Our core values guide our why and how we work together. They are: Family, People and Community Matters, Growth is Essential, Integrity First, Innovate, Take Responsibly, and Seek Excellence. We empower our employees to do the right thing every day and take pride in offering the very best environment for them.
If you are interested in being part of a team focused on this mission, take a look at our career opportunities and find out how you can have a rewarding career at Flatwater Bank.

OUR BENEFITS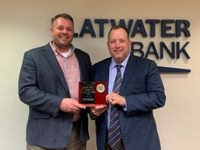 Flatwater Bank strives to provide benefits that take care of our team and their families and supports their health and financial well-being. At Flatwater Bank full-time employees have access to the following benefits:
Medical, dental, vision, and disability benefits
Tax-advantaged accounts (FSA, HSA)
401(K) with generous employer match, pre-tax/Roth options
Life Insurance
Paid Personal Time Off
Team-building and professional development
Company-wide celebrations and events
Team kudos and recognition programs
See Open Positions Below:
The Marketing Specialist will assist the marketing officer and other management at Flatwater Bank in promoting our brand image and products in the communities we serve. This is a great opportunity for a marketing professional or someone with a strong desire or interest in marketing to get hands-on training and experience. The right candidate must have an eye for detail, feel comfortable learning new marketing tools and systems and be ready to take on a variety of daily administrative and marketing-related tasks.
REQUIREMENTS
Proficiency in Microsoft Office
Experience with social media platforms and analytics tools preferred
Experience with graphic design tools (Canva or Adobe) preferred
An eye for detail, whether proofing marketing content or managing data entry
Confidence in learning new systems to execute tasks
Curiosity for marketing and an interest in exploring new methods or tools aimed at improving strategy
Willing to take direction if and when needed, but also work independently

KEY RESPONSIBILITIES
Assist marketing officer with the design of marketing materials, such as social content, print ads, print materials, brochures, and marketing campaigns
Assist in the creation and managing of content (social, video, website, newsletters, and graphics)
Post content on the company's website using a content management system
Organize and maintain customer databases and mailings
Manage the company's social media sites, responding to inquiries, helping to create posts, and managing the post schedule
Assist in the development of email marketing campaigns
Participate in meetings to brainstorm and define new promotions
Other tasks, as assigned, may include: creating surveys, reporting on marketing initiatives, researching new marketing tools or processes, assisting with event organization and marketing
Salary is dependent on experience.