OUR CULTURE & VALUES
At Flatwater Bank, our "Why" is simple. We exist to enhance the lives of our customers, team members, and community. #BecauseWeCare. We do this through personalized banking, customized financial resources, financial outreach, and community engagement. 

Our core values guide our why and how we work together. They are: Family, People and Community Matters, Growth is Essential, Integrity First, Innovate, Take Responsibly, and Seek Excellence. We empower our employees to do the right thing every day and take pride in offering the very best environment for them.
If you are interested in being part of a team focused on this mission, take a look at our career opportunities and find out how you can have a rewarding career at Flatwater Bank.

OUR BENEFITS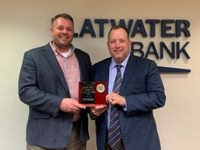 Flatwater Bank strives to provide benefits that take care of our team and their families and supports their health and financial well-being. At Flatwater Bank full-time employees have access to the following benefits:
Medical, dental, vision, and disability benefits
Tax-advantaged accounts (FSA, HSA)
401(K) with generous employer match, pre-tax/Roth options
Life Insurance
Paid Personal Time Off
Team-building and professional development
Company-wide celebrations and events
Team kudos and recognition programs
See Open Positions Below: