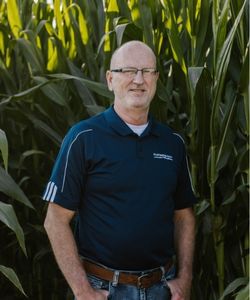 Q. What is your experience in the financial industry? How many years have you been with Flatwater Bank?
A. I have been working at Flatwater Bank for 31 years and prior to that, I was with a banking organization in Wyoming for 2 ½ years. As the Vice President Compliance and a lending officer, I am responsible for overseeing compliance for the bank and helping customers with loans. In addition, I serve on several Flatwater Bank committees and I am a board member.
Q. What trends do you anticipate in the ag industry in the year ahead?
A. I know everyone's concerned about interest rates going up this year but that's not just the ag industry. Prices are at profitable levels but costs are rising and in some cases, extreme price increases have occurred. There are supply chain issues that, along with everyone else, will likely affect the ag industry this year.
Q. What is something you would advise for young producers just getting started?
A. Seek out mentors and trusted advisors. You're going to need advice from a variety of sources such as your lender, your accountant, your agronomist, your marketing specialist. This doesn't necessarily apply to just young producers but it's best to develop these relationships while you're young.
Q. How would customers describe you?
A. I think they might describe and recognize me as someone who has a lot of years of experience and that they can trust me for advice and to help them with their financial decisions.
Q. What do you enjoy doing in your free time?
A. I do some woodworking and sign making for my wife's crafts that she needs made. I also play the keyboard, sing, and spend time working on music for my church.
Q. What is a fun fact about you?
A. For years, my dad's family owned a small grocery store in Gothenburg called Schriver's Market. A lot of people remember that store and I often run into people that share their memories when they find out I'm from Gothenburg. One time, while on a cruise to Alaska with my family, we were offboarding to one of the stops. My son was wearing a red Nebraska cap and a man asked where in Nebraska we were from and we said Gothenburg. He said, "Oh yes I know where Gothenburg is, I remember a store called Schriver's Market." Definitely not something I expected to hear from someone in Alaska!
Q. How can someone benefit from working with Flatwater Bank?
A. Banking is a very competitive environment so it can be difficult to choose where to go. However, I think it boils down to how you get treated. For example, when you walk in the door does someone greet you or when you make a call does a real person answer the phone? Does your email get a timely response? Are their educational opportunities? Do you get helpful information and advice? I think the fact that Flatwater Bank really strives to make a difference in someone's life in what we do and how the customer is treated is a factor worth considering when choosing a bank.