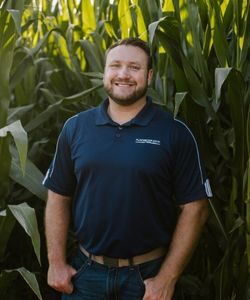 Q. What is your experience in the financial and ag industry? How many years have you been with Flatwater Bank?
A. Before I began working at Flatwater Bank, I was a farm and ranch hand south of Cozad, NE. I helped raise red angus pairs and grew corn and soybeans. In 2019, I graduated from the Graduate School of Banking, Wisconsin at Madison, but I have been at Flatwater Bank for over 8 years. 
Q. What are your responsibilities at work or in your community?
A. As a loan officer at Flatwater Bank, I help people with all kinds of financing, but mostly agricultural loans. Although it isn't my responsibility, I also enjoy helping the bank with maintenance projects. Outside of work, I volunteer as a Teammates mentor and hold a leadership role at the Cozad Elks club.
Q. What advice would you give to new or prospective clients?
A. I'd say to be knowledgeable about your financial situation. Not only does that help with first impressions, but it can also help with your interest rate.
Q. We live in a digital world, but how can customers still benefit from working with a local loan officer?
A. I wouldn't trust my personal business to a computer algorithm, and you shouldn't either. Befriend a local banker, ask questions, keep them up on what is going on in your financial world, and a smart financial decision is never very far away.
Q. What are trends you anticipate for the ag industry in the year ahead?
A. There is a growing number of mouths to feed in the world, which means that there is room for good and fulfilling jobs for farmers and ranchers. 
Q. How would customers describe you?
A. I think customers would describe me as a detail-oriented person. I always need the most up-to-date numbers to make decisions but history with a customer and openness with me goes a long way.
Q. What is a fun fact or something that most people don't know about you?
A. I know how to scuba dive and have dove in 5 countries.