Is Using a Digital Wallet Safe?  
by Jennifer Ballmer
, 
Vice President Operations
Did you know that you can add your Flatwater Bank Visa debit card to the digital or mobile wallet on your mobile device?  It's something I've been using for a while now and I love it.  However, I get asked by people all the time…is it safe?  The short answer is, yes!  Let me explain.
What is a digital wallet?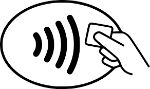 Essentially, it's a digital version of your debit or credit card.  To protect you and your card information, the card number and personal information are not actually stored on the phone.  Digital wallet apps like Google Pay™ or Apple Pay™ can be used on phones and smart watches.  To make an in-store purchase, check for your digital wallet's logo at the point of sale (POS) system.  Place your phone near the device reader and follow the steps on your phone.  
How does it protect my information? 
Digital wallets use tokenization.  When you pay for something with Google Pay™, for example, your debit card data is hidden in a randomly generated numeric code, known as a token.  Your card number never appears in a merchant's database; instead a randomly generated code is stored on their system.  Another security feature of digital wallets is called "sandboxing".  Basically, your digital wallet app is isolated from most apps on your phone and only interacts with tools within its "sandbox". 
Ever lost your wallet? 
I have and it's stressful.  If someone gets a hold of your credit or debit card they can do a lot of damage before you realize it.  The great thing about a digital wallet is that it has built in protections.  For example, to use the digital wallet on my phone you have to know the passcode to my device (or biometrics), as well as a passcode each time you pay.  Even if you lose your phone, as long as you have passcodes set up, your digital wallet is safe.
Contactless means cleanliness.
Using your digital wallet can be a cleaner way to pay.  Depending on the merchant, you may not need to touch the card reader in order to complete your payment.
  Here are some other tips to safeguard your digital wallet:
Avoid spyware and malware on your phone.  Only download apps from a trusted, verified source. 
Avoid suspicious emails and text messages.  Often times they are trying to get access to data on your phone.
Try to avoid using public WiFi to conduct banking or other private transactions.
Set up passcodes and biometrics on your mobile device.   While you might think it's a pain to enter a code or scan your face every time you open your phone, it's a great safety measure to put in place.