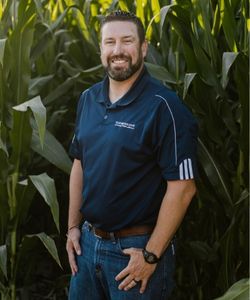 Q. What is your experience in the financial and ag industry? How many years have you been with Flatwater Bank?
A. I grew up on a farm/ranch, so I have been surrounded by agriculture all my life. I started my career in banking in 2002 and joined the Flatwater Bank lending team in 2007 and have enjoyed getting to help people and businesses succeed ever since.  I am a graduate of the Graduate School of Banking Wisconsin and Nebraska Bankers Association and Dawson Area Development Leadership classes.
Q. What are your job responsibilities?
A. My role at the bank involves all areas of lending, but I have specific expertise in ag lending. 
Q. What leadership roles do you have at the bank or in the community?
A. I  serve on the Board of Directors and I lead the lending team here at Flatwater Bank. Outside of my work-related leadership roles, I also serve on the Board of Directors at Wild Horse Golf Club. 
Q. Do you have any advice for young producers just getting started?
A. Understand the cost of producing the commodity. When there is the chance to lock in profit, make a sale. Singles and doubles win the game. It is very hard to hit a home run every year.  Also, work to build liquidity...you never know when you will need it.
Q. We live in a digital world, but how can customers still benefit from working with a local loan officer?
A. I know there are certainly benefits of the digital world. However, there is still something to be said about being able to pick up the phone and call your lender or having a face-to-face conversation.  I really enjoy getting to know each of my customers and knowing and understanding the in's and out's of their operation.  I am biased, but I think our customers get the best of both worlds, we provide all the latest digital technology but also get to know them and understand their goals and operation.  Every business has its' ups and downs.  Having someone to work side-by-side with you while in a tough spot is invaluable.
Q. What are trends you anticipate for the ag industry in the year ahead?
A. I anticipate margins tightening due to increased production costs, but there will still be the ability to have positive cash flow.
Q. Can you tell us something that most people wouldn't know about you?
A. You wouldn't think this since I grew up on a farm, but I am afraid of most birds, mostly chickens!