Why Did I Get This Postcard?

For starters, they did not come from Flatwater Bank. These postcards (which come in a variety of "flavors," including yellow, pink, blue, and white, and other companies) are being sent to consumers all around the county. Recipients are asked to call 844-818-1159 (we've also found 844-748-0405 in our research) about an "important matter" with their loan. This scam is especially tricky because it seems real by being sent through the mail.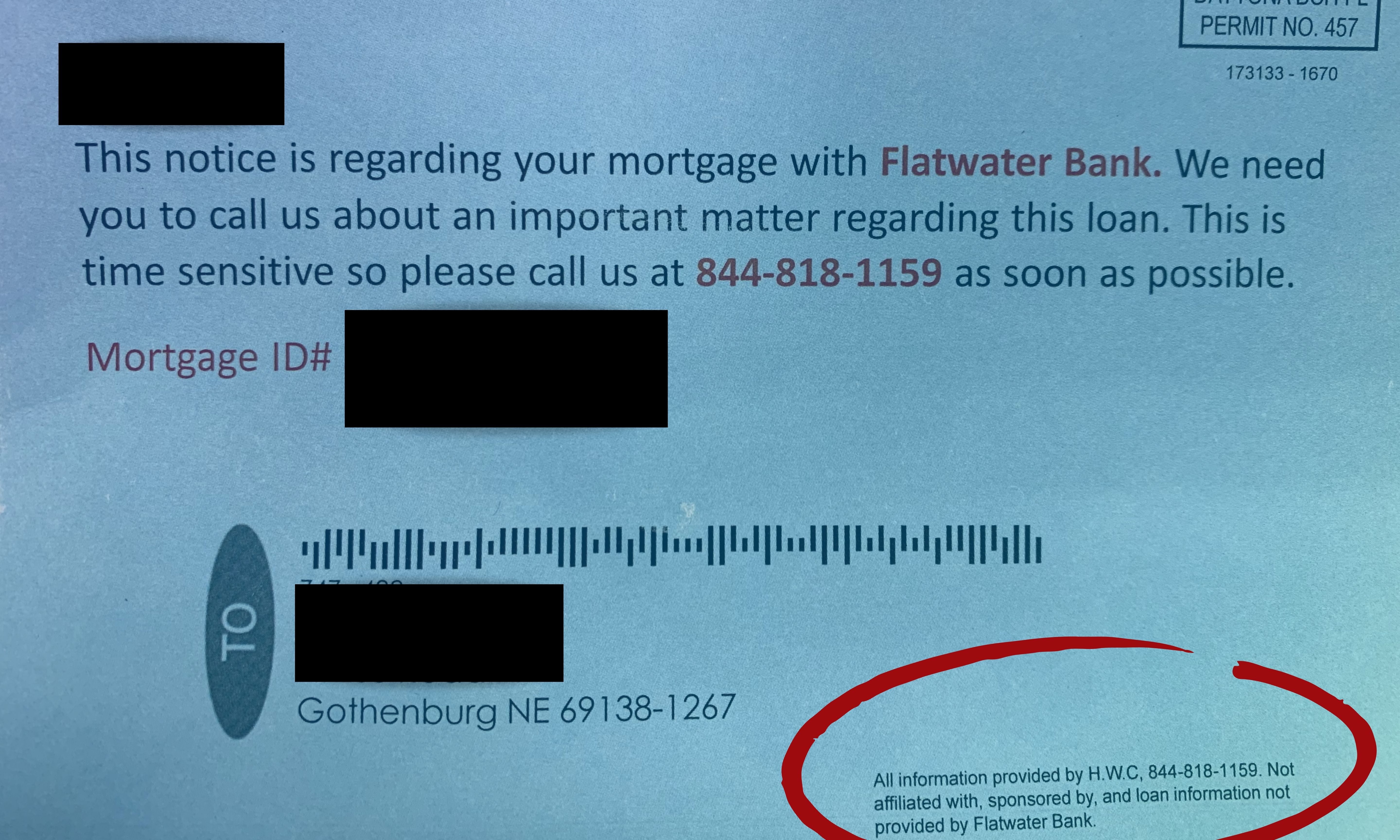 Who is Sending These Postcards?
There is a small disclaimer in the bottom right corner (you may need to get out your magnifying glass) indicating the sender is "not affiliated with, sponsored by, and loan information not provided by Flatwater Bank." That may be the only truthful statement on the postcard. It does further state that the information was provided by "H. W. C." but good luck finding reliable information about them. 
How Did the Blue Postcard Senders Get My Information?
At Flatwater Bank, we're committed to protecting your personal information. We do not sell or otherwise distribute it to non-affiliate third parties. However, some information about mortgages, regardless of what lender the consumer works with, is public record. That's how someone like this will obtain your contact information.
Do note, that the account number on the postcard does not match yours.
What If I Call the Number on the Postcard?
Calling the number may connect you with a real person, or it may connect you to automated recording prompts. Regardless, do not offer them your personal information. 


What should I do if I get this postcard?
The best thing to do is disregard the postcard. Dispose of it however you would any other junk mail you receive. In addition, you are always encouraged to contact us directly should you have questions.