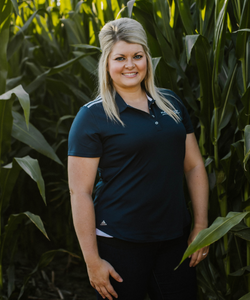 Q. What is your experience in the financial industry? How many years have you been with Flatwater Bank?
A. I graduated from UNL with a Bachelor's Degree in Business Administration, Finance Minor. I have worked in the banking industry, specifically mortgage for 10 years, with the last seven of them being at Flatwater Bank. My passion is mortgage lending. I currently serve as the primary contact for mortgage loans for all our locations. . 
Q. What leadership roles do you have at the bank or in the community?
A. I am the Assistant Vice President Lending, managing the Loan Administrative Assistants in our Gothenburg and Ansley locations. I am a voting member of our Loan Committee. I sit on a variety of boards and committees throughout the Gothenburg community (Learning Adventures Parent Board Member, Our Lady of Good Counsel Parish Council Member, LB840 Citizens Advisory Board, REDLG RLF Committee).
Q. How can someone benefit from working with Flatwater Bank?
A. We try to make banking simple and will walk you through every step of the way for all the services we offer. At Flatwater Bank you are not just a number, we truly care about you and your financial well-being.
Q. We live in a digital world, but how can customers still benefit from working with a local loan officer?
A. The ability to sit face to face with a loan officer will always be the gold standard to me. At Flatwater Bank, relationships matter! Everyone on our team strives to foster that relationship each time we interact with you.

However, the world we live in is ever-changing and it is important to change with it! Working remotely is not only becoming more common, but also how many of our customers prefer to conduct their business. I am very experienced in working with customers 100% remotely and I'm confident that I can deliver the same customer experience and comprehensive service online. Our state-of-the-art banking technology has allowed me to lend mortgage loans to many customers out of state, without them ever having to step foot in the bank.

Q. What do you find most rewarding about your job as a loan officer?
A. My passion for mortgage stems from knowing I am making a difference in the lives of my customers. Whether it's helping them buy their first home or their forever home, assisting with refinancing their home loan to get them one step closer to having financial freedom, no matter the situation, it's always rewarding!
Q. How would customers describe you?
A. I would hope customers would say I am very passionate about mortgage lending. I am respectful of the customers' needs and wants and work to make the mortgage loan experience very easy and painless!
Q. What is a fun fact about yourself that most people may not know and what do you enjoy doing outside of work?
A. I married my high school sweetheart. I enjoy spending time with my husband and our two kids. We enjoy golfing, hiking, hunting, and spending time on our families' ranches together.