OUR CULTURE & VALUES
At the Investment Service Center, we partner with clients to plan, protect, and invest in their financial success at every state of life.  Our team members bring diversity to our solutions and we value collaboration to work to simplify the complex.
If you are interested in being a part of a team focused on always putting the customer first with integrity at our core, take a look at our career opportunities and find out how you can have a rewarding career with us. 
OUR BENEFITS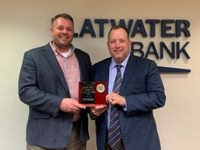 We strive to provide benefits that take care of our team and their families and supports their health and financial well-being. Full-time employees have access to the following benefits:
Medical, dental, vision, and disability benefits
Tax-advantaged accounts (FSA, HSA)
401(K) with generous employer match, pre-tax/Roth options
Life Insurance
Paid Personal Time Off
Team-building and professional development
Company-wide celebrations and events
Team kudos and recognition programs
Financial Advisor / Wealth Magagement
Are you looking for a job as a Financial Advisor? Are you interested in getting licensed and starting your career in financial services? Or, do you want to continue your career working for a company that strives to do the right thing while making what is complicated for others, seem simple?
If so, this could be the role for you!
The Investment Service Center, located at Flatwater Bank is seeking applicants to support the needs of our growing business.
We are seeking an enthusiastic, curious, and motivated individual who wants to work or is currently working as a financial advisor. If you are not currently licensed, we'll provide paid training for your Series 7 and 66 licenses.
Your goals are just as important to us as they are to you. We offer a supportive environment, where we value what you bring to the team. Therefore, you can direct your career at the Investment Service Center and be proud of the work you will do.
In this role you will:
Learn from the ground up. You will communicate with clients in person, digitally, and over the telephone; schedule appointments, maintain client information, and work with other ISC staff while also working to obtain licensing
Contribute to our culture as a financial professional by achieving department and personal goals in a fun, fast-paced setting
Deliver great client service to our clients and co-workers
Take ownership and tackle complex and challenging issues to resolve the client's needs
Adapt quickly when faced with challenges and be enthusiastic about change
Have a commitment to excellence and provide accurate information to our clients regarding their accounts
Share your ideas and your feedback to help identify opportunities that will make your experience and our team better
Live, work and become involved in Gothenburg and/or surrounding communities
We offer:
Paid training to obtain Series 7 and Series 66 licenses
Ongoing coaching and support
Competitive salary, insurance benefits, 401K and profit sharing
A fun and collaborative work environment
Education and/or experience requirements:
A Bachelor of Arts or Science degree from a four-year college is required. Experience in financial services, business development, banking, marketing, management, and community involvement is a plus. It's also beneficial if you are a self-starter with strong interpersonal skills.
Job Type: Full-time
Benefits:
401(k)
401(k) matching
Dental insurance
Flexible spending account
Health insurance
Health savings account
Paid time off
Professional development assistance
Tuition reimbursement
Vision insurance
Physical Setting:
Schedule:
Ability to commute/relocate:
Gothenburg, NE 69138: Reliably commute or planning to relocate before starting work (Required)